RYA Powerboat Training and Personal Watercraft (Jetski) Courses in France
RYA Powerboat Training Courses in St.Tropez, South of France
Power boat and Jetski, ICC, Level 2 and Advanced certificate up to 24 metres
RYA Registered centre in France providing RYA powerboat training courses for level 1, 2, Intermediate, Safety Boat and Advanced Powerboat Certificates including ICC, for boats up to 24 metres.
Also the RYA certificate of competence for Personal Watercraft (jetskis)
RYA Hand books, Log books and Certificates will be charged at RYA listed prices
No previous experience is required and the RYA powerboat training course covers subjects such as Boat Handling Skills, Coastal Awareness, Collision avoidance, Emergency procedures, Weather, Charts, Tides, Launching & Recovery, Trailering, Maintainence etc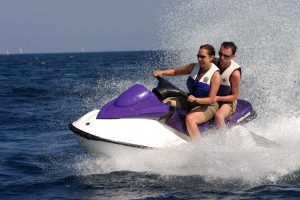 RYA Level 2 / ICC
RYA Powerboat Training courses are £350 using our equipment or
£300.00 if you provide your own boat. If providing your own boat please ensure it is seaworthy and correctly insured for training purposes.
RYA  ICC Assessment
(for already competent boat handlers) is
£225  in our boat or £200 in your own boat
(If you fail the assessment you will be asked to take a power boat refresher course to retrain your weak areas)
The cost of the RYA Personal Watercraft course is £225 using our equipment or £175 if you bring your own PWC
It is a one day training course
You may wish to join the RYA which is currently available with a special offer £5.00 discount.
WHY DO I NEED AN RYA POWERBOAT COURSE
Is the area you wish to pursue your boating in safe? —

 Current Conditions & Coastal Awareness

Is the situation likely to change? — Weather Forecasting

Are you familiar with the waters? — Charts and Marks

Can you share the water with other craft, Safely? — Collision Avoidance

Do you know where you are going and what lies ahead? — Passage Planning & Course Plotting

What can affect you? — Tides and Wind

Can you launch safely? — Launch and Recovery

Do you have sufficient skills? — Boat Handling

What if something goes wrong? — Emergency Planning
RYA Courses and qualifications are available to anyone. The courses are delivered in English.
Level 2 powerboat course can be gained by persons 12 years and over. Level 1 course is available to persons over 8
All courses are Coastal rated.
The ICC can be issued to British Nationals and Nationals of North american countries
or any country that is not a member of the Economic Commission for Europe.
Our courses are based in the Gulf of St.Tropez. Point of departure is Marines de Cogolin
The course can be conducted on your boat at your location, subject to € 50 per hour travelling surcharge.
Client to provide 1 : 20 000 recent chart of area
Own Boat must comply with RYA standards of seaworthiness
Recommended Pre Course Reading
RYA Powerboat Practical Course Notes
RYA Day Skipper
RYA PWC Practical Course Notes
Recommended (not essential) Equipment to have (for RYA powerboat training courses)
Own Hand Bearing Compass
Own Hand held GPS
Chart of your normal boating waters
Bretton or Portland chart plotter