Vacances de Sports Nautiques
Watersports Holidays, St. Tropez, Southern France
in the warm, Mediterranean Sun
Adventure Sports St Tropez is the Activity Holiday for singles, Families and Groups
wanting Watersports Holidays in the South of France
Wakeboarding, Waterskiing, Jetskiing, Sailing, Kayaking, Snorkeling, Wake Surfing, Kneeboarding, Diving and Coasteering
WATERSKIING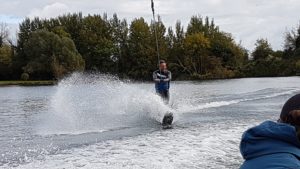 Waterskiing is a well known and long established water sport. At Adventure Sports, we have an unrivaled success rate for newcomers and we pride ourselves in our teaching expertise. On our Watersports Holidays we will teach you to ski from a deep water start on two skis. We can progress you to dropping one ski to mono skiing. If you can already achieve this, we can improve your deep water mono starts or slalom technique. We have two ski boats with 150 hp outboards giving a very respectable amount of power! The chief instructors, Matt Dale and Gareth Steveson, are both experienced British Waterski and Wakeboard qualified waterski and wakeboard coaches.
JETSKIING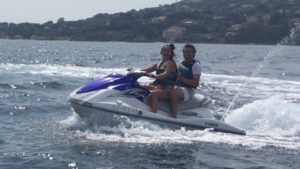 Jetskiing, or Personal Watercraft as they are also known, is a popular watersports activity. This is probably due to the versatility and user friendliness of the sit astride type. On our Watersports Holidays we always start our sessions with a safety and training brief because it is very easy to get carried away with the exhilaration and fun of this activity and we aim to keep you safe as well as have fun. With our safety boat we can monitor your activity, so we are able to offer jetskiing as part of our multi-activity programme and it is always a lot of fun.
WAKEBOARDING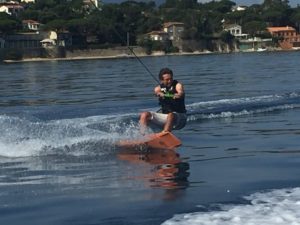 One of the most significant additions to the range of board sports that are towed behind a boat, wakeboarding is very like snowboarding or skateboarding with good crossover skills. It is one of our favourites on our watersports holidays. There have been many attempts to come up with an alternative to Waterskiing and Wakeboarding is the most successful. It is already extremely popular and the watersports equipment is developing, technically, all the time. The sport is pursued at slower speeds than waterskiing but there is more AIR involved, and when you get good it can be very gymnastic with new tricks to learn at every stage. Here at Adventure St Tropez, we love Wakeboarding and have a fantastic success rate introducing people to the sport. It requires a little more determination than learning on two skis but lots of fun and a great sense of achievement and of course has that 'cool' factor!
POWER BOATING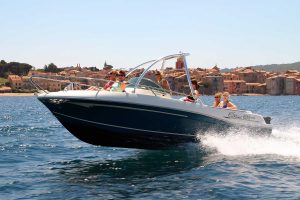 We naturally spend a lot of holiday time in boats, but at least one of the days will be spent enjoying the pleasure of Power Boating.
The thrill of going fast in a boat is an activity itself, but when you add in the adventure of a Boat Safari for a whole or half a day, it is much more fun. Depending on conditions, we may voyage out of the Gulf to a beautiful location, where we can drop anchor and you can dive, swim, snorkel and sunbath. Listen to your own music plugged in to our system and you can bring food and wine if you wish. It is what the rich and famous come here to do and it's one of the favourite days, especially in the warm Mediterranean sun.
KNEEBOARDING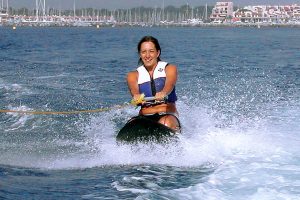 Knee boarding is another skimming, carving spinning sport that is towed behind a boat. The centre of gravity is much lower, therefore, once you are up, you are less likely to fall. On our Watersports Holidays this activity is really popular with our younger guests. They are soon carving behind the boat and cutting through the wake, getting air. It is a fun activity and a watersport that we can pursue when conditions are less than perfect for waterskiing.
KAYAKING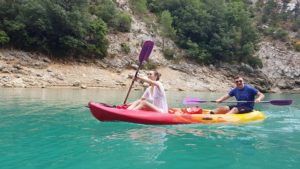 Kayaking is a popular afternoon and normally takes place around the labyrinth of canals that form Port Grimaud. This area has been modeled, in parts, similar to Venice so is very picturesque. We can kayak in the shelter of the canals so is a good option should we have a mistral wind blowing one day. On your Watersports Holidays we often finish the tour with a well earned drink at a beach bar or at a quayside creperie they also serve a lovely glass of rose!.
SNORKELING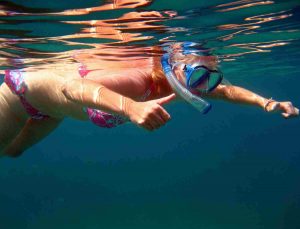 Snorkeling is an easily achievable activity on our watersports holidays. After a short training brief you will be able to experience seeing the beauty of the waters below. We have plenty of opportunities to go snorkeling as we are always out on boats. On your Watersports Holidays the wonderfully warm and clear waters of the South of France are so inviting and the fish are quite entertaining. There are a number of places we know where the fish will eat out of your hand. A great place is Crocodile Rock, which is part of a Coastal Adventure Walk along a beautiful coastal track, the views are stunning and the sea is always crystal clear.
COASTEERING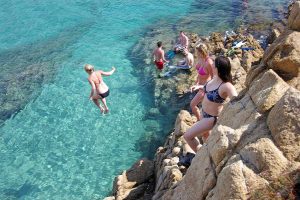 Here at Adventure Sports St.Tropez we love to maximise the fun wherever we go so a simple coastal hike or Boat Safari, may turn into a Coasteering Activity at any time.
It may depend on the wind or the ever shifting sand, but when we determine it safe to do so our watersports holidays will include Rock jumping, traversing, swimming and snorkelling. All the ingredients of a great Coasteering Adventure, but unlike the cold, UK waters, we very rarely need wetsuits as the Mediterranean is blissfully warm for most of the summer.
PADDLEBOARDING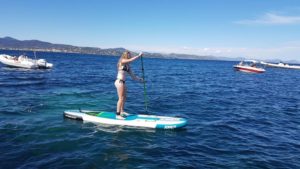 Is the latest watersport to become popular. Born from the longboarders using a paddle to catch small waves this sport has many adaptations. Yachts are now carrying them on board to reach the shore and an easy way of exploring anchorages. We like to take the paddleboards on a coastal safari along the beautiful L'Escalet coast line. Crystal clear waters make the paddle interesting as the fish dive around beneath the paddleboard. If you want to we can also practice some yoga on the boards. No worries if you fall, you just land in lovely warm water.