Beginners Watersports Activity Holidays in France
Watersports for Beginners
Mandy R. from Bristol came to Adventure Sports as a complete beginner for the 2017 season.
And she writes :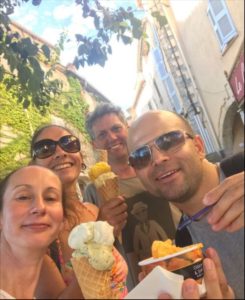 "I've just got back from an absolutely fun packed week in the sun with Matt and his lovely assistant Lucy. I booked last minute to escape the Bristol drizzle and I've had one of the best weeks ever.
You have the option of being collected from the airport which made it really easy to get to the destination in around 1.5 hours. I stayed in a basic but nice apartment on les Marines de Cogolin. The view over the harbourside from the balcony was stunning! Sitting there with a glass of rosé and watching the men erm I mean boats go by, was a great way to relax as in the day the action never stopped….
The wakeboarding is the highlight though be prepared for an early start before the water gets too choppy with all the other boats in the water. Matt was very encouraging and patient and clearly gets so much joy from seeing people progress. I went from not being able to stand up at all on day one to riding one handed, riding switch, flying in and out of the wake and even getting a little bit of air! I was grinning from ear to ear! If you don't get on with it I believe you can try kneeboarding instead!
I just loved hanging out on the boat, watching everyone take their turn, helping with the ropes and learning boating terminology, though I think Lucy made up the Micky mouse knot!
I chose this holiday for the variety of activities on offer. We packed in standup paddle boarding, kayaking, a rather competitive game of mini golf, a market trip to st tropez, a couple of boat trips, and an afternoon exploring the picturesque Grimaud (ice creams are a must). The afternoon highlight of the week for me was Paddleboarding out to crocodile rock and snorkelling in clear water among hundreds of fish!
There is a day off in the week and I highly recommend asking to borrow a bike and riding on the cycle path to St Maxime! If you just want to relax you can chill out at the local beach and work on your tan!
In the evening there are plenty of places to go and eat, but if you want to save a bit of cash you can eat in. Gèant supermarket is not far and is a giant as the name suggests. We had a nice evening in with food, drinks, a game and lots of laughs!
I think I need to lie down now and book another holiday to recover. I am a very very happy customer and want to go back tomorrow! If you love water sports, laughter and sunshine then do not hesitate to book with AST! You will not regret it!
Merci Matt and Luci!"