Family Watersports Activity Holidays in France
Perfect family watersports activity holiday
Ideal family watersports holiday for single parents with active children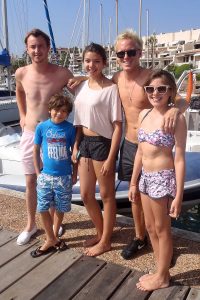 A family watersports activity holiday – a healthy holiday where your family can learn new skills and meet new friends. Spend quality time together as a family with us providing and organising the different watersports activities. We know only too well the problems keeping teenagers occupied. The Cote d'Azur is a highly salubrious location, it is hot yet refined and you will love the celebrity feel about it. Everything about the South of France is beautiful. The people, the scenery and even the airports, yet it is all close enough to drive to if you wish. Quite a few of our families on our family watersports activity holidays, have crossed the channel by car. It's about 12 hours coast to coast and represents a viable alternative to air travel.
A thank you message from one of many families on our family activity holidays
"Just a quick note to thank you very much for the best family holiday that we have ever had. It was so good to be able to get up in the mornings and not have to worry about arranging something that the whole family would enjoy. As a result of your patient coaching, we were able to achieve much more than we would have thought possible. It is difficult to tell you just how much satisfaction Mum and Dad got from seeing Katie and David enjoying themselves and achieving so much. Also we are particularly grateful for the way in which you looked after all of us in general, and ferried us around the various locations."
We have beautiful Marina apartments available on a BOOK DIRECT option for those family holidays wanting greater flexibility (ie.: larger families, non participating family holiday members, non active 2nd weeks etc.). Ask Matt for contact details.
We are friendly, helpful people so don't be afraid to pick up the phone and discuss YOUR family holidays with us in france!
A very popular option for Saturday with Families is Aqualand in St. Maxime.