Water Sports Holiday Booking
To Book Simply :
1: Choose the date you wish to come on your activity holiday.
2: Check the availability with us (Using our online booking system, by email or phone) and make a provisional booking. If you are booking a non standard week, Matt will email you a pro-forma invoice. You can then book online by using the Invoice reference. Simply scroll down the 'what holiday do you want to book' options and then click the 'payment only' option. We receive all your details and amend the invoice.
3: Check the availability with the airline on the web and book the flights.
4: Come back to us and book online or contact us to confirm booking and pay deposit (by credit card, debit card, AMX, bank transfer or cheque).
Once we have received your booking we will send a confirmation pack and a map of the marina. It's a good idea to print off the map of the marina as it will help you to get around the marina on your watersports activity holiday.
HOLIDAY BOOKING FORM
Download the Booking Form or Brochure (includes Booking Form) by clicking thumbnails below
Holiday Booking Form to be completed and returned by Scan/Photo/Email or Post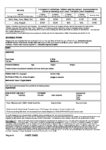 ONLINE PAYMENT – Go to our online booking system and select Payment Only
ONLINE BANK TRANSFER – Ask Matt for Bank Details
Exchange Rate
Check this site for the latest Euro / Pound exchange rate, and the recent history.