[metaslider id=316]
Watersports Activity Holidays

Adventure Sports watersports activity Holidays in St.Tropez, France
Our Watersports Activity Holidays are Perfect for Beginners, Singles Holidays, Group Holidays, Family holidays. Families with Teenagers, Wakeboarding holidays. Hen weekends and multi activity breaks or activity only sessions in France. Powerboat training and charter.
Simply
Watersports activity holidays in France. An adventure on the warm sunny Mediterranean Sea, in the exclusive Gulf of St.Tropez, Cote d'Azur. South of France. Enjoy millionaire style watersports activity holidays in an affordable and accessible way. UK based, friendly English people. Adventure Sports St.Tropez have been providing watersports activity holidays in France and UK for over 30 years. Our Video
Why Choose Us?
We are a long established, smaller company that specialises in more personal, one to one tuition. Our unrivaled enthusiasm and experience will encourage success and achievement. Fabulous location, great weather and quality activities. Flexible programme plus our expert weather interpretation and local knowledge, result in perfect activity days in the best conditions. Virtually a bespoke holiday with flexibility to choose your own transport or your own accommodation. We are vocational teachers and take pride in what we do.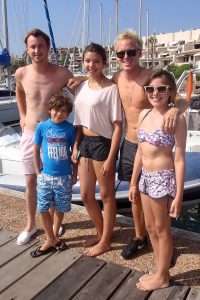 Activities
Wakeboarding, Wakesurfing, Wakeskating
Waterskiing, Kneeboarding
Powerboating, Coastal Safaris
Jetskiing, RYA Courses (Boat and PWC)
Sailing, Diving, Swimming
Kayaking, Paddle Boarding
 Mountain Biking, Coasteering
Snorkelling, Scuba (optional)
What we Provide
Peace of mind from a company that has been established for over 30 years.
An Adventure in the South of France that's different every day.
An active, healthy holiday where you can learn new skills and meet new friends.
Tuition by very experienced British qualified English speaking water sports instructors.
All the equipment and we organise all the adventure and activity. No subcontractors.
A unique blend of quality activities, not found at large centres, at no extra cost.
More individual attention and customer care with smaller activity groups.
A beautiful, famous location frequented by equally beautiful and famous people.
Accommodation in stunning marina . Water, boats and beautiful gardens.
A true Mediterranean climate, hot and sunny nearly all the time.
Local transport often travelling by boat sometimes including night passages.
WaterSports Activity Holidays France, related links: Our Hen Weekends Site
Our Self Catering Accommodation in Cornwall web page